WergelandApenes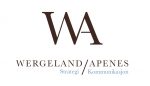 WergelandApenes is a consultancy with highly qualified advisers who collectively possess very strong international experience. We are proud affiliates of the world leading network FleishmanHillard with 165 offices in 79 countries.
We help our clients to enter the Nordic region – and to move out into the wider world. Our experienced team is large enough to handle the biggest challenges, but also small enough to respond swiftly. We work on a daily basis with clients in Europe, the USA and Asia, delivering services in corporate communications, public affairs, PR and crisis communication. We cover all sectors, and are particular strong on energy, pharmaceuticals, technology, tourism, branded products and government relations.
Our commercial insight allows us to deliver measurable operational services. We maintain a low profile, and let our clients shine. As a result, we have frequently been ranked among Norway's best agencies – and the most recommended.
Contact: Rune Mørck Wergeland, partner and chair at [email protected] or +47 913 88 914.