BDO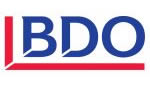 BDO is an audit and advisory enterprise with more than 900 employees and offices located throughout Norway. It cooperates with BDO International, the world's fifth largest accountancy network with more than 1,000 offices in nearly 120 countries, including affiliates. Participation in this network provides access to a high level of invaluable competence, giving BDO the strength and durability needed to complete tasks internationally, and at the same time considerable knowledge when problem-solving on local terms.
ONE OF THE LARGEST PROVIDERS OF PROFESSIONAL SERVICES IN NORWAY
Respect for the unique
As a rapidly developing enterprise, we have carved out a name for ourselves as one of the leading professional services companies in the country. We supply a broad range of services within our business areas:
• Audit
• Accounting
• Payroll
• Tax, VAT, customs and excise duties
• Due diligence and financial advisory services
• Risk and advisory services
The wide range of services benefits our customers through a holistic delivery and a clear focus on their specific, individual needs.
Dedication and flexibility
As we employ professional experts with extensive experience in local compliance, we are in a position to deliver services that gives you security and efficiency in your Norwegian operations. BDO's flat structure allows flexible working relationships across boundaries and between different services, and ensures that we always have the resources to assist you – regardless of your situation. With offices all over Norway, we enjoy unique proximity to our customers and their local markets.
Our client base ranges from small businesses to large listed companies, and features representatives from most industries in all parts of the world. All our clients are unique and it is our job to help them comply with Norwegian requirements and deadlines, as well as being an active support in the day-to-day operations.