BCC Coronavirus Business Impact Tracker: Firms ready to embrace 'new normal' but government support must adapt
Results from the latest BCC Coronavirus Business Impact Tracker reveal that firms are ready for a gradual reopening of the economy but will need continued, adaptable government support during a phased return to work. Share the latest results with your members on Twitter and LinkedIn.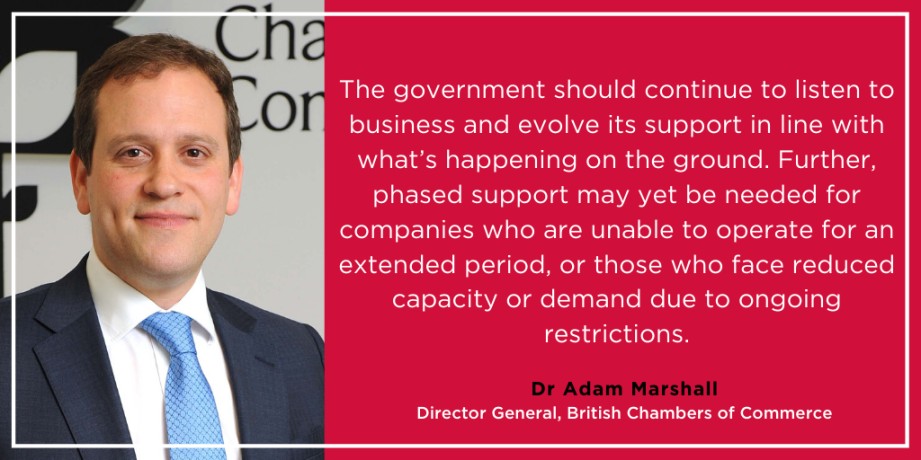 ---
Updated FAQs on the Coronavirus Job Retention Scheme (CJRS)
Following the extension of the CJRS until the end of October, the BCC policy team, alongside our colleagues at Quest have updated the CJRS FAQs.
The scheme will continue in its current form until the end of July. Changes to allow more flexibility will come in from the start of August. More specific details and information around implementation will be made available by the end of this month.
Take a look at the updated FAQs on our Coronavirus Hub and share with your members. Contact the BCC policy team with any queries.
---
Self-Employment Income Support Scheme (SEISS) open for claims
The SEISS is now open for claims. HM Revenue and Customs contacted self-employed individuals last week to let them know they could be eligible, and also launched their eligibility checker. The checker provides eligible self-employed individuals with a confirmed date between 13 and 18 May from which they will be able to apply for their grant.
---
Updated specifications for businesses producing PPE
The Cabinet Office has published updated technical specifications for UK businesses who are producing PPE. Take a look at the details and share with your members.